In Ireland, integrated catchment management (ICM) is a dominant approach to water management. ICM manages water by integrating ecological factors with social, political, and economic ones to understand what affects water quality within a 'catchment' (an area from which water flows into a water body). Data problems, however, can limit the extent of this approach. When we explored publicly available data on economic and social factors that impact water quality to better contextualise the catchments in our field sites, we found it trickier to draw meaningful conclusions than we anticipated.
1. Boundaries do not align
The first problem we encountered: it is difficult to make the data speak to each other. This issue is rooted in boundaries that do not line up. Boundary issues in water management was a problem that the 2000 EU Water Framework Directive (WFD) sought to redress. Previously, water management occurred through political boundaries. While convenient, political boundaries do not reflect the ways that water flows and were deemed insufficient management units. The WFD replaced political boundaries with hydrological ones, precipitating Ireland's shift towards ICM. However, these political boundaries are those used to classify most available social and economic data. Political, social, and economic data is often available by county, but often county lines do not match up with catchment boundaries.
In this example, toggling on 'ROI counties' brings up a spatial layer that represents Ireland's counties. Three county lines intersect Lough Ree, the large water body featured in the map. Click on 'WFD Catchments' and zoom out to bring up a layer that shows the boundaries of the catchment. Here, the catchment border encompasses the lake rather than transecting it. Importantly, three county datasets intersect the catchment of the lake. No one data set is representative of the catchment and reflects information drawn from a much wider area. The incompatibility of spatial units is a common geographical problem that impedes our ability to draw conclusions about what is going on in the catchment. It also highlights one difficulty in achieving ICM. It is hard to take an integrated view of a catchment if you do not have the data to consider economic, social, and political factors across comparable boundaries.
2. Regional Units and Drivers of Pollution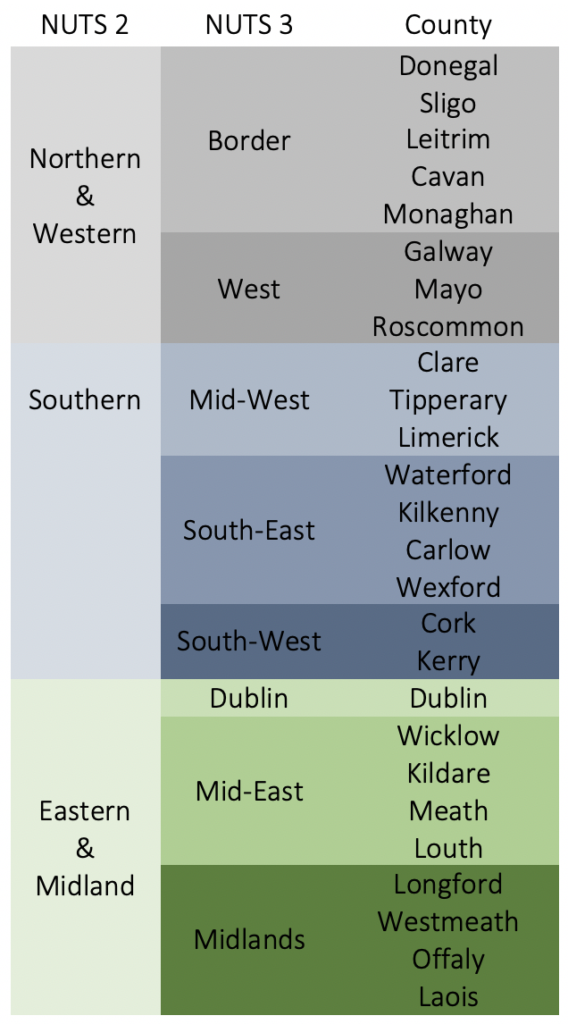 Another issue is the aggregation of data to higher-order spatial units. While counties are a commonly used boundary, certain data types are only made available at the regional level. This is the case for the data the Central Statics Office (CSO) provides regarding one important source of water pollution: agricultural activities.
We wanted to know: What kinds of animals have been raised? What kinds of plantings have dominated? What kinds of agricultural incomes have been generated? However, much of the agricultural data are made publicly available using a standardised regional system used in the EU. NUTS (the Nomenclature of Territorial Units for Statistics) classifications serve important functions by enabling comparisons to be made across Europe and is used funding allocations.
NUTS regions are tiered and based on population. In Ireland, NUTS1 is the entire country, NUTS2 is made up of 3 regions, and NUTS3 is made up of 8 regions each comprised of 1-5 counties (see table, adapted from the CSO). You can see how these regional classifications align with catchment and county boundaries in the map below.
3. Units and boundaries change over time
Under EU Regulation, NUTS boundaries must remain static for at least three years. When NUTS boundaries periodically change (due to changes in population, etc.), the CSO revises older data to ensure comparability across time. However, some of the data from much older datasets reflect regional groupings that were commonplace before NUTS gained a legal footing in 2003. For example, data from 1980-1999 on Farm Land Utilisation are based on a different 5-region classification. These regions do not match those used in data sets for more recent time periods and fragments our understanding of past conditions. By not being able to make comparisons across time, it can be more difficult to trace the drivers of pollution and their impacts on water quality. This is particularly so where impacts may accrue slowly over time, and as land use changes from industry and development intensify, putting new pressures on the environment. We've used our policy timelines to try to help recover some of these longer histories with different kinds of data sources.
4. Politics and multiple spatial units in water management
There are many other boundaries at play in water management; these can change over time. The WFD introduced River Basin Districts (RBDs) as expansive spatial units to manage water resources, accounting for the hydrological cycle. However, the RBDs introduced under the 1st River Basin Management Plan (RBMP) (2009-2014) were significantly changed under the 2nd RBMP (2018-2021). Most dramatically, the 2nd RBMP merged 5 RBDs into one national RBD, changes justified by the water governance problems posed by the RBDs classified under the 1st RBMP. The differences between the 1st RBMP and the 2nd RBMP can be seen by clicking on RBMP 1 and RBMP 2 in the final map. The recent history of RBDs signals just how complicated it is to rethink water governance, and how hydrological boundaries can also be political ones.
As we investigated different data sources that could tell us something about the catchments in our field sites, we realised that there are many different spatial units that shape how water is studied and governed. For example,
Nested hydrological geographies such as Catchments and Sub-catchment
Areas for Action that the Local Waters Program are using to prioritise research and initiatives to improve water quality
Political boundaries such as Counties and Regions
EPA data that characterise individual water bodies around different measures
RBDs that organise governance structures
These boundaries intersect and overlap with one another, as visible in the final map.
Trying to understand what has been going on in the catchment from the data that has been collected over decades requires understanding the relationship between these different geographies, the data available according to these geographies, and their limitations. Significantly, approaching catchment management in a more integrated way requires reconsidering how we gather and produce data, and the boundaries and geographies we use to do that. Moreover, however imperfect, statistical data still only offers one way of understanding catchments. How people experience catchments by living and working in them are geographies that our fieldwork seeks to draw out and which elicits more textured and layered understandings of what is going on in a catchment than the partial stories other data present.
---
—–
CSO: Information Note for Data Users: revisions to the Irish NUTS 2 and NUTS 3 Regions.; Eurostat: History of Nuts; River Basin Management Plan, 2018-2021; OSI: NUTS2 – Generalised 100m, NUTS3 – Generalised 100m, County Boundary Generalised 20m – OSi National Statutory Boundaries; EPA: EPA GeoData Portal Catchments Package, River Basin Management Plans